BRD Create Bitcoin Wallet and receive Bitcoin revenues
BRD Bitcoin Wallet
There are a variety of different Bitcoin Wallet. The wallets can be distinguished on which device the wallet is to be used. Thus, there is Bitcoin Wallet for the computer, as hardware wallet or as mobile wallet for the smartphone.
Then there are Bitcoin Wallets where the provider manages the Bitcoin credit (custodial wallet) or where the owner is also the unlimited owner (non-custodial).
For beginners we recommend the BRD Bitcoin Wallet. The BRD Bitcoin Wallet is a Bitcoin Wallet for the Smartphone and available for both Apple and Android devices.
This Mobile Bitcoin Wallet is available in several languages like English and German and most importantly, it is a non-custodial wallet. With a non-custodial wallet, you have the so-called private key and have unlimited access to your Bitcoin at all times.
Install BRD Bitcoin Wallet
To install the BRD Bitcoin Wallet on your smartphone, go to the appropriate Apple (iOS) or Google (Android) app store and search for BRD Bitcoin Wallet. In the App Store it is displayed as: "brd: bitcoin-wallet and crypto".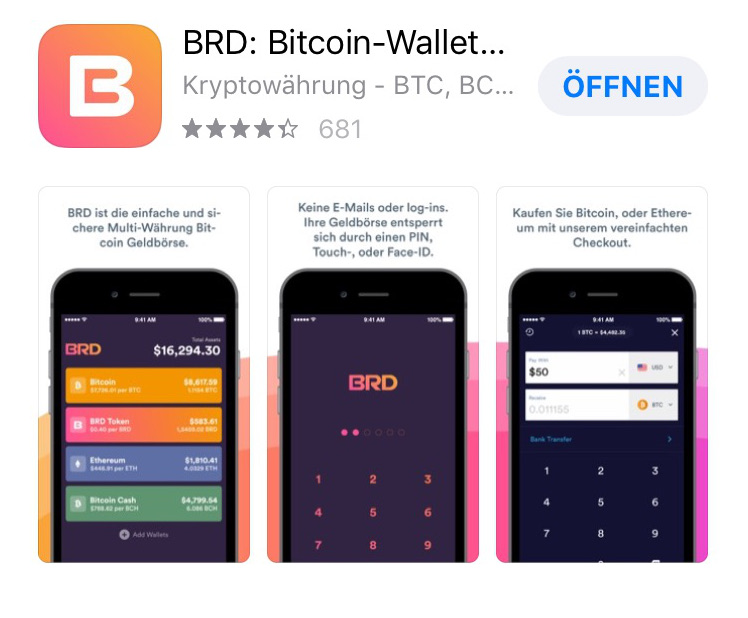 Then install this app on your smartphone.
BRD Bitcoin Wallet screen
After you have installed and started the app, you will see several pictures showing the BRD Bitcoin Wallet. Here you can always click on Next.
You are then also asked if you would like to buy Bitcoin. This can always be denied. Firstly, we want to earn some Bitcoin ourselves with our online shop (Don't buy bitcoin – Earn it!) and secondly, there are cheaper ways to buy Bitcoin.
So exclude the offer to buy Bitcoin at this point.
Create a BRD Bitcoin Wallet Account
As a user you are completely anonymous to the BRD Wallet and no registration takes place. No email address is requested and if the data is lost, no external party can send new access data. Every user is responsible for his own data.
Users are educated to take personal responsibility, which is in line with the "be your own bank" credo of the Bitcoin community.
It is therefore important that all passwords and access data are accurately noted down and kept in a safe place.
PIN CODE
The PIN code is used to secure access to the app. The PIN code is a six-digit number and can be freely defined.
You will be prompted to enter this PIN code whenever you make a payment from your Bitcoin Wallet or change an important setting. This six-digit PIN code is required if you use the wallet.
If you forget your PIN code, nobody can reset your code. Therefore remember this PIN code well and keep it in a safe place. If you lose your phone or forget your PIN code, your Bitcoin is not lost. You can access your Bitcoin again at any time using the recovery key.
Recovery seed
The 12-word password
When installing the BRD Bitcoin Wallet, a so-called Private Key is created for the user. Whoever has this private key has full access to the credit. This Private Key is created from 12 English words. You write these 12 words on a piece of paper and keep this note in a safe place.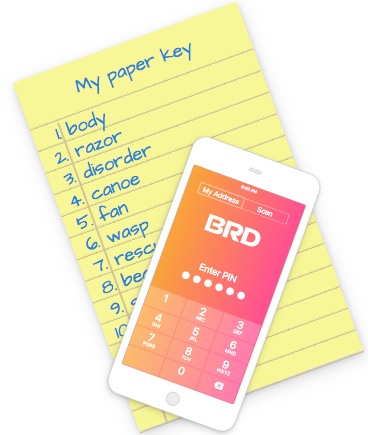 This recovery key is also called a seed or seed phrase. It is practically the private key to your Bitcoin and only you should know this key and not betray anyone. Whoever knows this key also has access to the Bitcoin.
During setup you will be advised to write down this recovery key securely.
But it is not absolutely necessary to write down the recovery key to use the BRD Bitcoin Wallet.
Even if it is not absolutely necessary, we must insist at this point that you write down this recovery key and keep it in a safe place.
Anyone who uses Bitcoin must be aware that you can only dispose of your Bitcoin balance on your own. No one can dispose of their credit balance and therefore cannot reset their password or otherwise gain access.
This is why Bitcoin is so secure and why it is essential to make a note of this recovery key.
Even if you lose your phone and forget your PIN, it's no problem if you have this recovery key.
Do not take a screenshot of these words, but write them down on a piece of paper.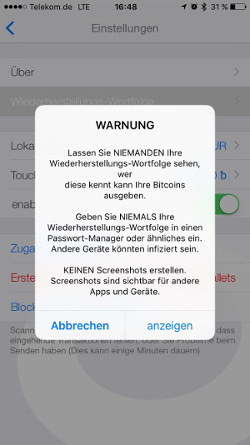 For the daily use with the BRD Wallet these 12 words are not needed.
If you ever lose or break your smartphone, you don't need to worry as long as you write down the 12 words safely. You install the BRD Wallet again on a new smartphone, enter these 12 words and you have access to your Bitcoin credit again.
Access to this recovery key is somewhat hidden.
When you see the BRD Wallet start screen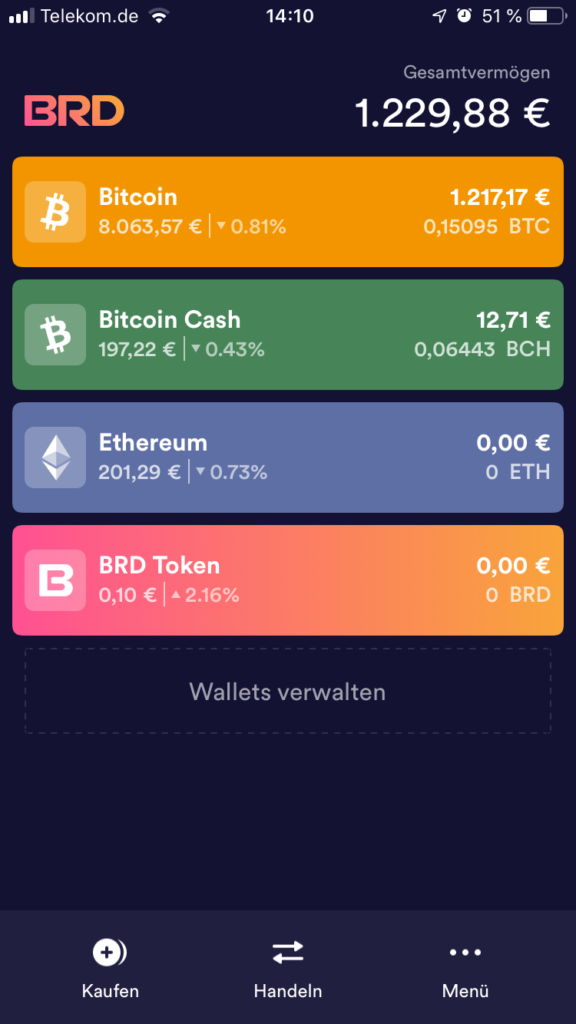 Let's scroll all the way down and find the word Menu and get to the Settings section.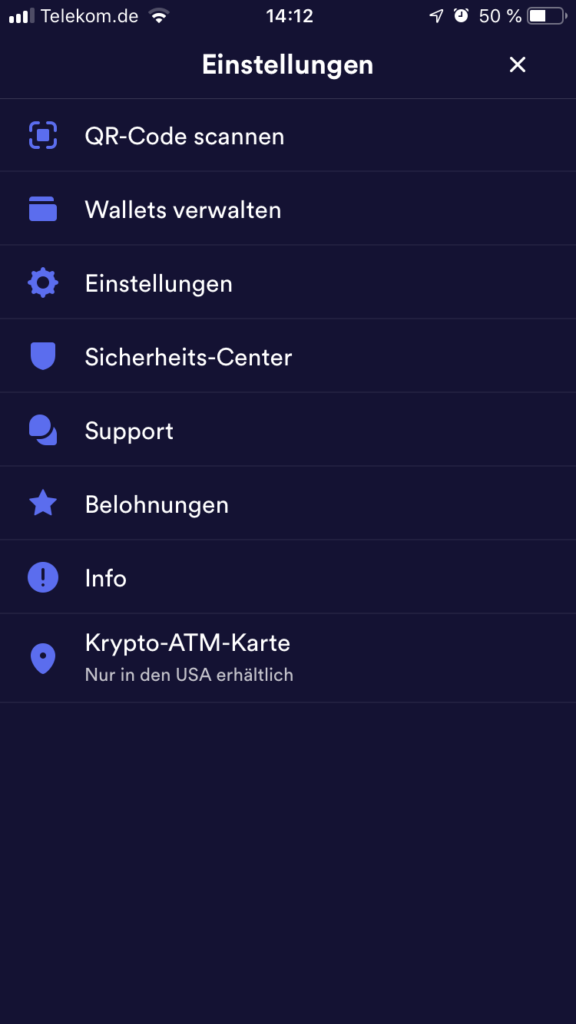 There we click on Security Center.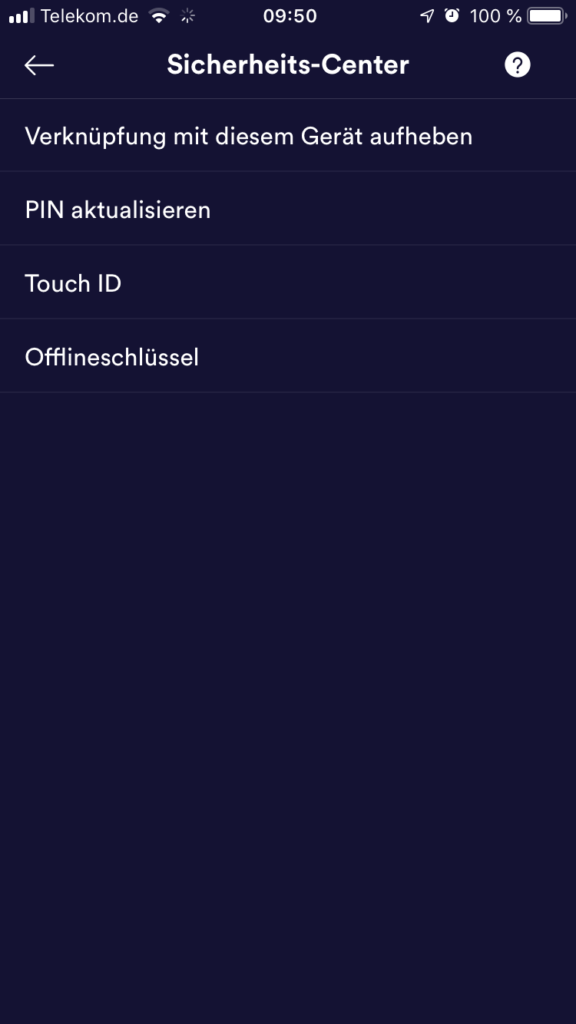 Then click on Offline Key.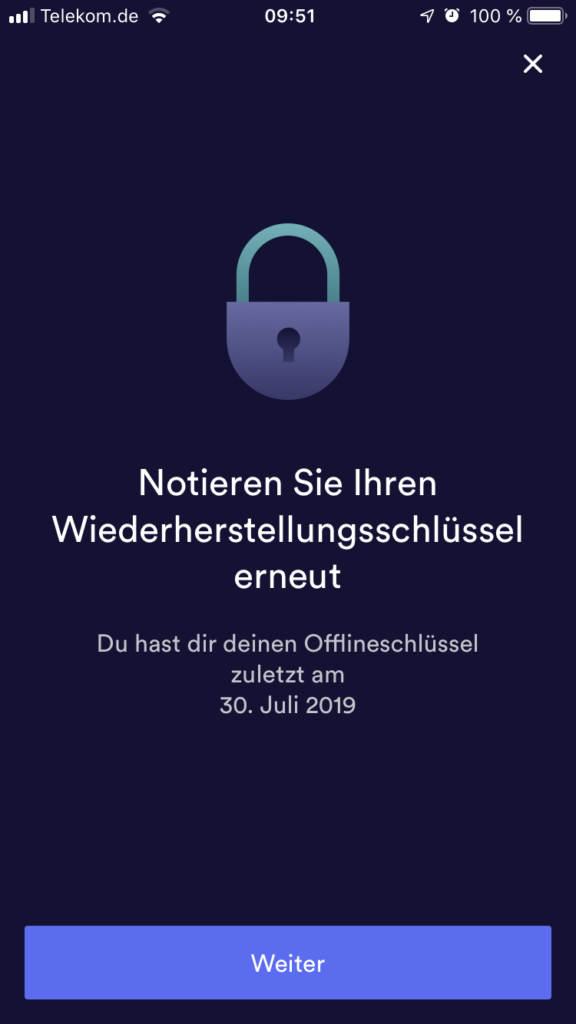 You then click Next and the twelve English words are displayed. After you have written down these words, you will be asked again whether you have transcribed the words correctly. Some words must be re-entered for confirmation.
If you are unsure whether you have written down all the words correctly, you can look at the recovery key (or offline key) again and check it.
If you've done all that, then you've overcome the biggest hurdle and learned one of the essential properties of Bitcoin.
Not your Keys – not your Bitcoin.
If you do not have the Private Key, then you do not own the Bitcoin.
But now we want to use Bitcoin as well and we are going to focus on Bitcoin sending and Bitcoin receiving.
Bitcoin Send & Bitcoin Receive
On the start screen of the BRD bitcoin Wallet different wallets are displayed. You will find there a Bitcoin Wallet, an Ethereum Wallet and the BRD own Wallet.
We click on Bitcoin Wallet and this page opens: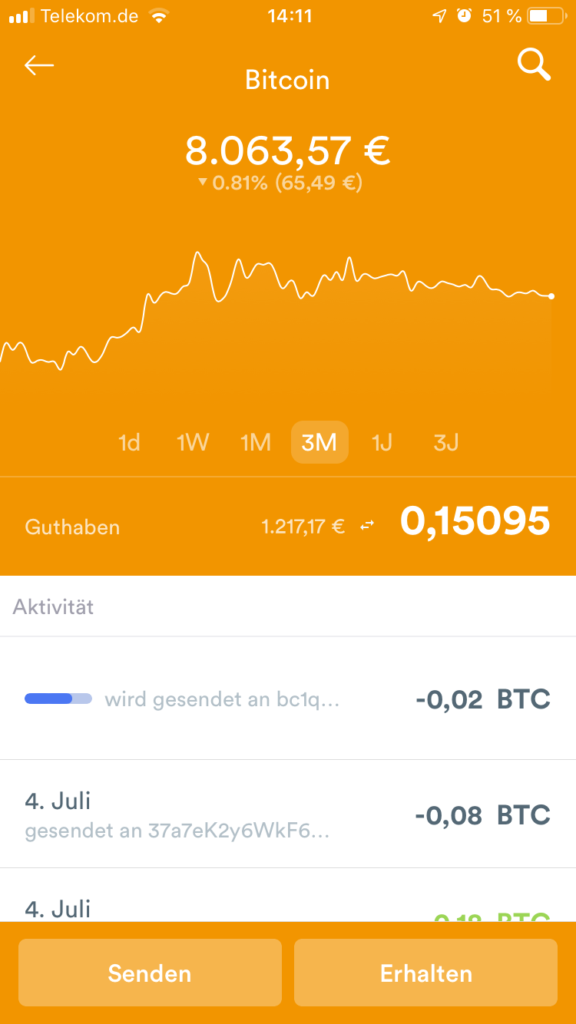 We see the current Bitcoin rate and a bit lower our Bitcoin balance in Euro and BTC (the short form for Bitcoin).
The options Send and Receive are available.
Receiving Bitcoin
There is no credit balance on the Bitcoin Wallet when you use it for the first time. To change this, we click on Receive: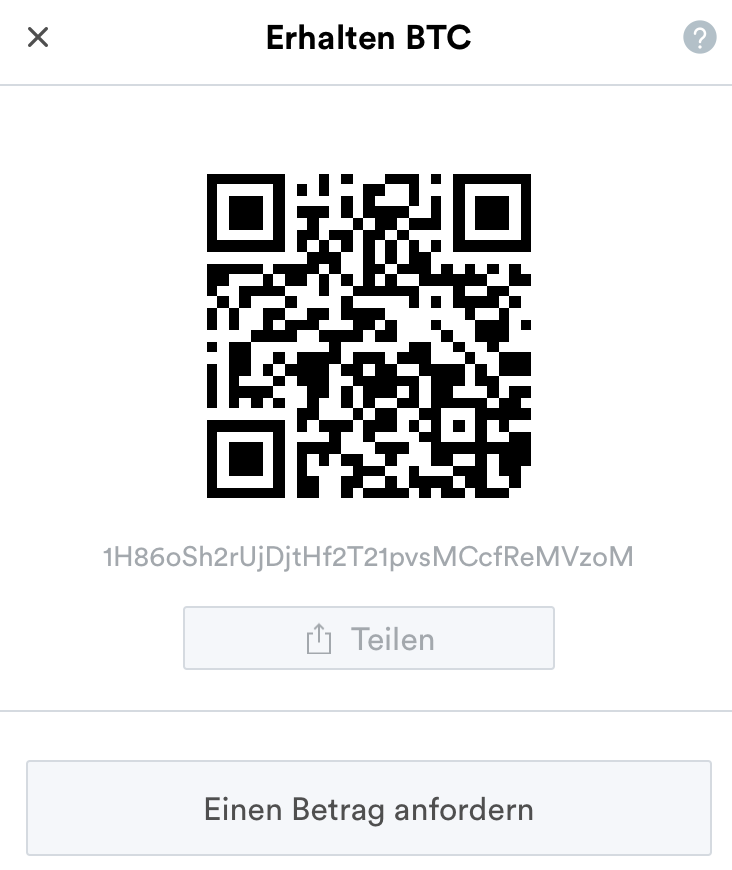 At this point the own Bitcoin address is displayed. This is a series of numbers and letters over 30 digits long. This Bitcoin address is like the IBAN number of a bank account and can be given to anyone from whom you want to receive Bitcoin. Please also inform Onlineshop24 of this Bitcoin address so that the Bitcoin with which customers have paid in the Online Shop can be sent to this address.
Since this Bitcoin address is a bit bulky, it is also displayed as a QR code so that it can be scanned more easily with another Bitcoin Wallet.
You can use the Share field to pass on your own Bitcoin address. It is common that a separate Bitcoin address is generated by the Bitcoin Wallet for each payment. So do not be surprised if the displayed Bitcoin address will be different.
All Bitcoin sent to the various Bitcoin addresses created with this BRD Wallet will be credited to this Bitcoin Wallet.
Tell Onlineshop24 your Bitcoin address to get your Bitcoin sales paid out. Do you have friends or acquaintances who already own Bitcoin? Then have a few Satoshi (smaller Bitcoin units) sent to you as a test.
You can enter a fixed amount in Euro or Bitcoin that you wish to receive. If the field remains empty, then the sender of the payment can determine which amount should be sent to this Bitcoin address.
Do you also operate a retail shop in addition to an online shop? Then your customers can also pay on site with Bitcoin. Simply enter the amount in euros and show the customer the QR code to scan and the Bitcoin Wallet becomes a Bitcoin payment terminal (POS).
Send Bitcoin
After there are a few Satoshi on your Bitcoin Wallet, you can send Bitcoin yourself.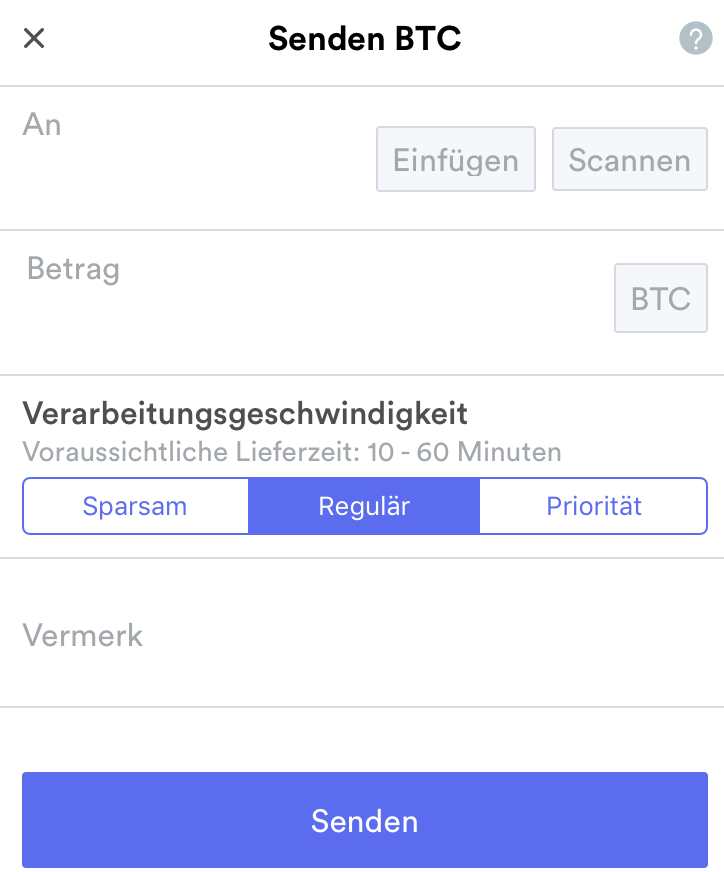 The Bitcoin address to which the Bitcoin should be sent is entered in the "To" field. Typing the address is not necessary. Either you have saved the Bitcoin address of the recipient from another application in the clipboard and can paste it here.
It is easier to use the "Scan" function. The camera function of the smartphone is activated and you can simply scan the QR code.
The QR code includes the Bitcoin destination address as well as the Bitcoin amount to be paid. The amount in BTC is displayed accordingly. By clicking on the BTC symbol you can also switch to the currency view Euro.
For the processing speed it is recommended to leave the settings on Regular. The speed of the Bitcoin payment depends on the price the payer is willing to pay. The price may vary depending on how many Bitcoin transactions are currently in the queue. The Bitcoin Wallet determines the optimal amount for a normal transfer speed, which can take up to one hour. If a payment is to be made very quickly, you can pay a higher amount and set the status to priority.
Do you have some Bitcoin on the Bitcoin Wallet and want to try out how to pay with Bitcoin? On the page: https://store.coincharge.io/ you will find a small live demo shop to make a test payment (donation). Please note that the minimum amount is €2,-, otherwise the BRD bitcoin Wallet cannot execute the payment.
Other online shops and stores where you can pay with Bitcoin can be found oncoinpages.io – The Bitcoin Business Directory.
Further setting options
In addition to sending and receiving Bitcoin, there are other functions and individual setting options.
The "Buy" button is located on the start page of the app. It is possible to buy some Bitcoin by bank transfer or by credit card. If you have the intention and want to buy some Bitcoin, there are cheaper alternatives. Find out more on the Internet. You will find a good introduction to inform yourself on the german website https://bitcoin-kaufen.org
The button "Trade" offers the possibility to switch between the different crypto currencies. For example, you can switch Bitcoin to Ethereum or back.
The menu button offers individual setting options. Here you can set the language or the own currency in Euro.
Also the possibility to write off his recovery key, as we have already described.
Summary
The BRD Bitcoin Wallet is a very good entry-level wallet that runs on iOS and Android smartphones. It is a so-called self-custody wallet because you have sole access to the Bitcoin via the recovery key.
It is very easy and intuitive to use and has all the necessary additional functions and setting options that can be found in the menu.
A bit annoying is the permanent request to buy Bitcoin via the BRD Bitcoin Wallet. But this is how this Bitcoin Wallet earns its money and you can click it away without any problems.
A very good Bitcoin Wallet to pay and receive payments with Bitcoin while keeping your Bitcoin balance safe.
Operator of online shop with Onlineshop24
We have described the BRD Wallet in more detail to familiarize you with the structure and handling of a Bitcoin Wallet. You are of course free to use any other Bitcoin Wallet. The essential functions are identical everywhere. There are minor differences in handling and user guidance.
Just try some Bitcoin Wallet and use the wallet that suits your taste. You should only make sure that you get access to the private key (in the form of 12 or 24 words).
Every online shop created by Onlineshop24 supports the payment methods PayPal, credit card, advance payment and Bitcoin.
With a BRD Bitcoin Wallet or any other Bitcoin Wallet, a Bitcoin address can be created to which the collected Bitcoins from the online shop are forwarded to the shop operator.
How to accept Bitcoin in your online shop, we explain in the article Accept Bitcoin