Why should you invest in an online shop NOW?
80% of your customers would buy in your online shop!
In a recent survey by CIVEY was asked
"Due to the Corona pandemic, many local merchants are temporarily closing. Would you currently buy online from these stores if it were possible?"
And this is what 10,000 German consumers answered in this representative survey:
over 50 % would buy in your online shop in any case!
another approx. 35 % said "rather yes" or "undecided", so they would possibly buy from you too!
only a good 12% refuse a purchase in the online shop of your local store!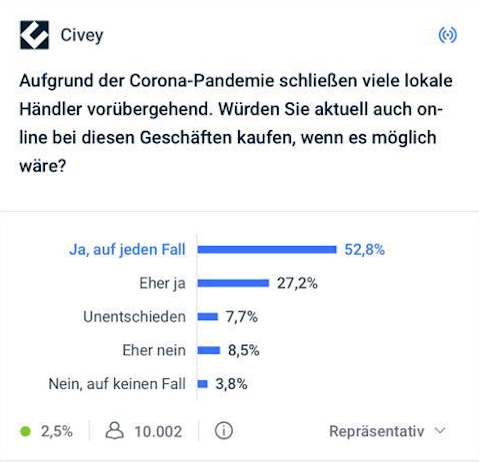 But even independent of COVID-19 — the trend is towards online trading: Start your online shop now with ONLINESHOP24.com and prepare yourself for a future in which more and more sales are made online. Guaranteed – with or without Coronavirus!
Start your coronavirus online shop NOW:
Our offer is aimed specifically at retailers who want to provide their local and regular customers as well as any other interested parties with an individual, professional online shop.
But for many merchants and traders the step to their own online shop is not easy. The reasons for this are as varied as they are justified:
Many are not familiar with technologies such as an online store and do not know how to get to your online store cheaply and securely, and what they have to contribute. Others are financially hard hit and shy away from major expenditures.
For still others the time factor is critical – if they don't start your online shop quickly, it could be too late! And last but not least, many small entrepreneurs are afraid to hire local advertising agencies for fear of long processes and coordination as well as escalating costs.
Order your fixed price online shop at ONLINESHOP24.com now!
Scope of services and prices:
Cost security: we realize your online shop for a fixed price of only 999,99 € or 59,99€ per month!
We create your online shop for only 999,99 € including 20 products, the payment methods bank transfer & cash on delivery and many other important functionalities! (see red box on the right)
Fastest possible delivery: we guarantee implementation in only 7 days!
We create your online shop in only 7 days – guaranteed**, if you support us a little and provide us with the required information, texts, pictures, prices, shipping costs etc. within max. 2 days. (**see Q & A, below)

Individual design according to your corporate identity!
Of course, we create your online shop in your individual corporate design: With your logo, your colours and your fonts, your online shop fits seamlessly into your external presentation and will be perceived by your customers as a genuine part of your business. If you do not have a corporate design, we will be happy to develop a suitable corporate identity for a small extra charge***! (***see green box on the right!)

Maximum accessibility and findability for your online shop!
We provide you with the web address (domain) www.YOUR-COMPANY-online.de or www.YOUR-COMPANY-CITY.de and enter your online shop in the regional information directories (Google Local, municipal pages, IHK pages etc.). So your local customers can find you quickly and easily!

More turnover despite Coronavirus, business closure or frightened, absent customers!
With your online shop you address the most important challenges of our time all at once: regular customers who do not want contact with sellers can order, pay online and pick up the already packed goods the next morning in front of your shop. If you don't want to pick up your bike, or are prevented from doing so by curfews, you can be delivered by DHL or local bike courier!

Fast customer information about offers, new products or price changes!
Your online shop is also a valuable communication channel to your customers: Here your customers can quickly inform themselves that you are still selling and order directly from your webshop. And if you have email addresses of your regular customers, we will integrate a newsletter tool at no extra charge to inform you about the new shop offer!

100% Responsive: Your online shop works on every computer, tablet and smartphone!
Your online shop is of course optimised for all devices – no matter whether your customers visit your shop on their mobile phone, with a tablet on the couch or at their desk on the computer, your products are displayed optimally and the ordering process works "like clockwork".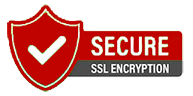 100% operational security: Woocommerce with SSL hosted at 1&1 / IONOS!
Your online shop is absolutely secure – for you and your customers: We use the Woocommerce Onlineshop, which according to many experts is the most used and most stable online shop in the worldwide internet. We also host your online shop at 1&1/IONOS, Germany's leading hosting provider. And of course your online shop will receive an SSL certificate for secure data transfer and best Google security rating!
general questions and answers
Typical questions and answers